Carlos Ayllón ofreció el concierto de la banda de música pop latina que lleva su nombre. Superado el reto y los nervios propios del debut, el músico agradeció el respaldo del público que se agolpó a La Estación de Barranco para acompañarlo. El hijo mayor de la icónica cantante criolla Eva Ayllón anunció que este show fue solo el inicio de una carrera en solitario que está dispuesto a afianzar.
"Gracias por estar aquí, esto ha sido un reto para mí. Es la primera vez que canto y toco la batería y ahora sé que no va quedar en una sola vez", agradeció Carlos Ayllón (37) a la concurrencia que no dejaba de aplaudir cada número ejecutado por su sólida banda. Los músicos César Híjar (bajo), Keny Medina (piano), Karel Medina (trombón), Abel García (saxo), Reynier Melón (trompeta), Diego González (guitarra), Yula Pumarada (coros) y Camila Yesquén (coros) fueron los responsables del potente sonido que cautivó al auditorio.
El concierto reunió una variada selección de 'hits' de la música latina de los años 80 y 90, con arreglos en los que se fusionaron diversos ritmos como el reggae, la timba, R&B, pop, rock, funk, la nueva ola y el jazz. Canciones como "Mil horas", "Flaca", "Chica de humo", "Criminal", "Loco", "Magdalena" y "Funky town" (Camila Yesquén) fueron las primeras de un colorido 'setlist'.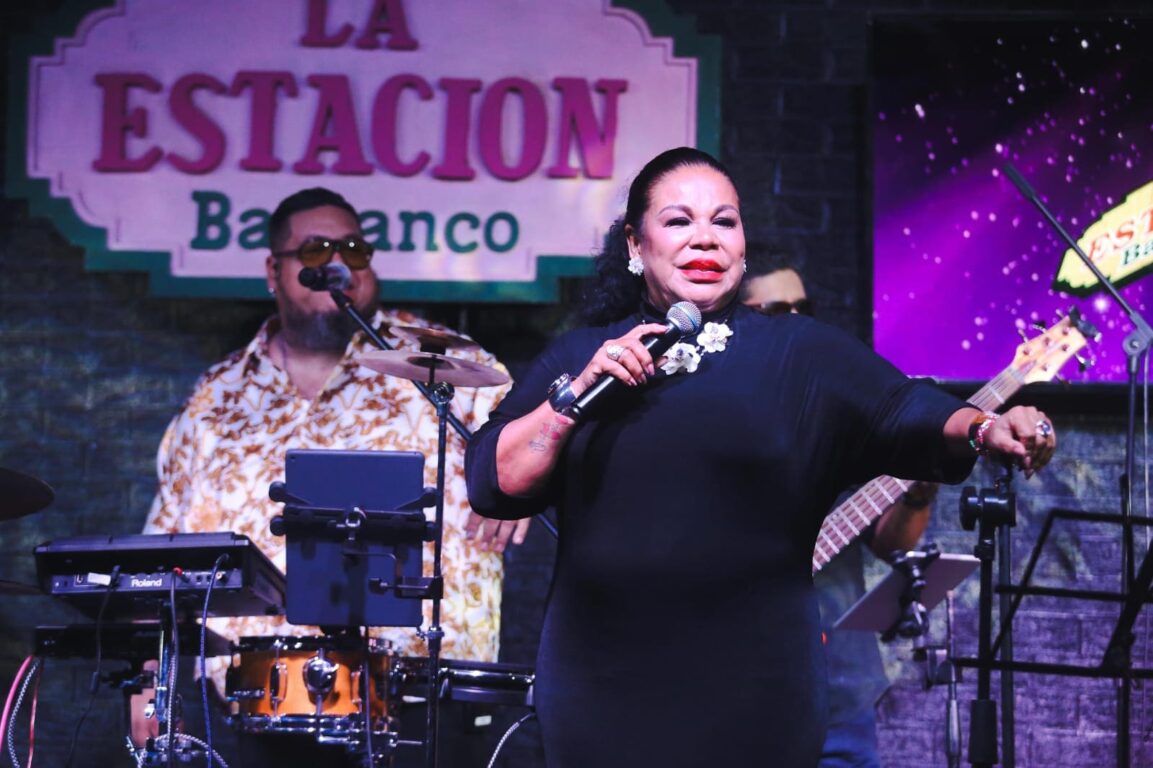 Tras un breve intermedio, la fiesta musical continuó con "Será que no me amas" y "Buenos Aires"\"Just the 2 of us". Para este último tema, Carlos llamó al escenario a la ex Son Tentación Angie Chávez, su primera invitada de la noche. Inmediatamente después, hizo lo propio con su amigo Pablo Saldarriaga. El ex Torbellino interpretó una versión de "León Santillán". "Música ligera" y "Bella Señora", siguieron en el programa.
Otra participación esperada de la noche fue cuando Eva Ayllón subió al escenario para interpretar una versión en jazz de "La ventana" de Los Doltons, un tema cargado de recuerdos familiares. "Ahora me río porque hace unas semanas tenía un cántico en mi oído: 'mamá, tengo miedo'. Querías ser cantante, ahí está… Acá no estás en Nueva Jersey con Sarandango (la banda de música criolla y tropical que Carlos tenía en EE.UU.). Estás en Lima y la competencia es fuerte y yo no te voy a ayudar… Gracias a los músicos por acompañarlo y gracias a ustedes (público) por darle paso al nuevo talento. Bendito seas hijo mío, que todo te salga perfectamente bien", le dijo Eva emocionada a su primogénito.
Entre los aplausos del respetable, la despedida -que más bien será el inicio de una serie de presentaciones de Carlos Ayllón y su banda- llegó con las canciones "Vivir así es morir de amor" y "Para no verte más". Sin duda, un concierto que debe repetirse. (ndp).