El pasado 15 de setiembre, en Santa María de Alto Nanay (Loreto), se produjo la detención de dos hombres que portaban mercurio para uso en la minería ilegal. Es la primera detención que se produce por este motivo.
La detención de Kike T. M. de 40 años de edad y Segundo Pasión L.F. de 60, fue realizada por personal de la comisaría de Santa María de Alto Nanay, a quienes se les encontró cuatro botellas de un kilo cada una de mercurio metálico 99,99%, entre sus pertenencias, en un operativo de prevención contra el delito de minería ilegal. Ambos hombres, tras declarar quedaron en libertad con cargos y se enfrentan a una pena no menor a tres años ni mayor a seis y con cien a seiscientos días multa según el artículo 307 E del Código Penal.
Estos sujetos viajaban en una de las embarcaciones fluviales de transporte de carga y pasajeros que hace la ruta Iquitos Pucaurco, se dirigían presumiblemente a esta comunidad, desde donde podrían entregar el mercurio a las dragas que operan en el río Nanay entre esta comunidad y la de Albarenga.
Se da la circunstancia que se presentó recientemente el reporte de setiembre de Monitoring of the Andean-Amazon Proyect (MAAP) que presenta mapas y datos obtenidos por imágenes satelitales de alta resolución. Según éste la presencia de balsas mineras en el río Nanay se ha incrementado en los últimos meses a pesar de la acción represiva de las fuerzas policiales y Marina. En dicho reporte, elaborado en conjunto de Conservación Amazónica – ACCA y Amazon Conservation Association – ACA, se confirma la presencia de 4 dragas en los márgenes de la Comunidad Nativa de Alvarenga y 16 dentro del área ce Conservación Regional río Nanay – Pintuyacu – Chambira.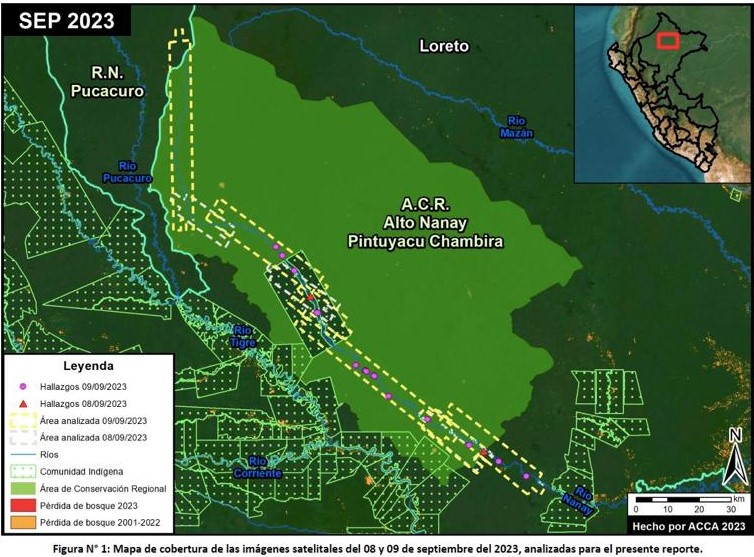 La suposición de que se están construyendo nuevas dragas y que el combustible y mercurio está llegando a las existentes se reforzó en el sobrevuelo que se realizó sobre la Reserva Nacional Pucacuro en el río Tigre y que al pasar sobre el río Nanay se avistaron 7 dragas entre las comunidades de Pucaurco y Alvarenga, así como los últimos operativos policiales en los que se ha hallado numerosos envases de combustible destinados a la minería.