La trama de Ulises (2022) de James Joyce está tan imbricada con su amplísima gama de recursos estilísticos, sus complejas menciones y alusiones culturales, históricas, literarias, musicales y simbólicas, que han venido sucediéndose diversas fuentes que nos acercan de manera amable y simple a su argumento, capítulo a capítulo, a modo de bitácora de lectura.
Así, por ejemplo, enseñaba a leer Ulises el novelista ruso Vladimir Nabokov entre las décadas de 1940 y 1950 en sus clases en los Estados Unidos compendiadas en su libro Curso de literatura europea (1980). De igual manera procedieron el crítico estadounidense Paul Jordan Smith en A Key to the Ulysses of JJ (1927), el crítico inglés Stuart Gilbert en El Ulises de JJ (1930) y el crítico estadounidense William York Tindall, autor de JJ: His Way of Interpreting the Modern World (1950), en su Guía para la lectura de JJ (1959).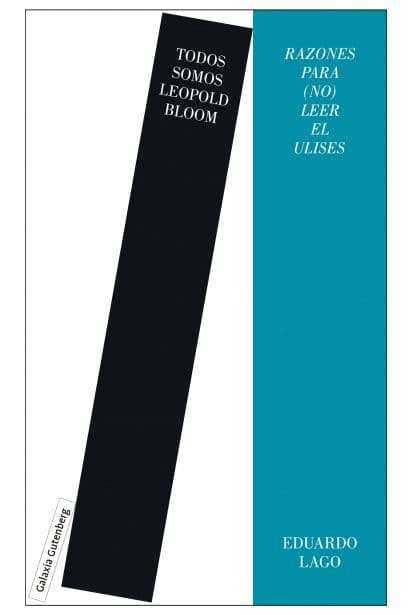 Más recientemente, desde la fecundamente joyceana Argentina, ha operado de manera similar Carlos Gamerro, quien compendió veinte años de clases y charlas sobre la novela en su obra Ulises. Claves de lectura (2008). Hoy, el crítico y traductor español Eduardo Lago (Madrid, 1954), catedrático en USA, ha procedido del mismo modo en su estupendo volumen Todos somos Leopold Bloom. Razones para (no) leer el Ulises (Barcelona: Galaxia Gutenberg, 2022).
Lago había obtenido el 2001 un premio de crítica por su artículo "El íncubo de lo imposible", en el que analizaba comparativamente las traducciones al español de Salas Subirat, Valverde y García Tortosa, y el 2015 ofreció dos conferencias, en Madrid y Buenos Aires, que son el germen de la presente guía, que también explica Ulises paso a paso a través de sus tres partes y dieciocho capítulos.
Es, pues, un magnífico registro a "la novela que marca un antes y un después en la historia de la literatura" (208). Fantástico.
(Paolo de Lima)